VIP's "Boo Bus" to Salem Haunted Happenings 10/29
Historic Salem Village, Salem, MA
Sunday, October 29 , 2023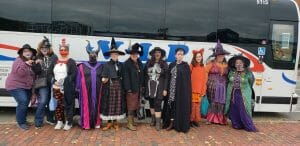 A festive celebration of Halloween and fall in New England. We invite you to experience a unique one of a kind Halloween experience. So, Eat, Drink and be Scary because there is Family Fun for Everyone! Let VIP do the driving to get you to this world recognized event. The day will be yours to explore all that Salem has to offer during the month of October.  As always, we love when you wear your costume, so don't be shy! Psychics, museums, tours, reenactments and more. There is something for everyone in the heart of Salem Village.
Sunday, October 29
8:00am – Portland Marginal Way Park & Ride
8:30am – Biddeford Exit 32 Park & Ride
8:45am – Wells Exit 19 Transportation Ctr
10:30am – 4:30pm Salem Haunted Happenings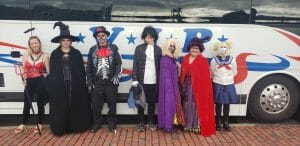 "Salem Haunted Happenings has evolved into a month-long celebration encompassing everything from family-friendly magic shows, to costume balls, psychic readings, haunted harbor cruises, ghost tours, and more. Whether you come to Salem seeking history, spooks, shopping, live music, or even a vibrant food and "spirits" scene, you are sure to find your own adventure this October at our Halloween Capital of the World." – HauntedHappenings.org
Visit www.hauntedhappenings.org to help plan your day and Ride VIP's Boo-Bus to Salem Haunted Happenings 10/29!