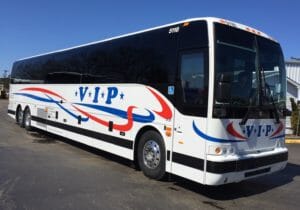 For Immediate Release:
June 25, 2018
VIP Tour & Charter Bus Company Announces Additions to Fleet
Woman-owned Maine company marks 33 years in business with fleet additions
Portland – Lana Sawyer, an owner and operator of Portland-based VIP Tour & Charter Bus Company, has announced major new additions to the company's vehicle fleet.
"We are continually updating our fleet to satisfy the needs of our customers, and we're fortunate to be in the position to be able to make those updates. In our 33rd year in business, we are excited to announce the purchase of a brand new motor coach that seats 55 passengers, as well as a new 38-passenger Van Hool luxury coach. VIP has the newest fleet of coaches in Maine and is proud to offer top-of-the-line modern comforts to travelers," said Sawyer.
The new 55-passenger Prevost X3-45 motor coach features 110-volt outlets with USB ports, Wi-Fi, video systems with DVD capability, window blinds, reclining seats, 3-point seatbelts, individually adjustable temperature, a restroom, and top of the line technology for clean-burning engines. It is the 14th new Prevost the company has purchased.
In addition to the current fleet of 55-passenger motor coaches and the Van Hool luxury coach, VIP also offers a 6-passenger Ford Flex, a 14-passenger Mercedes Sprinter, and 41 to 44-passenger activity coaches.
About VIP
VIP was founded in 1985 when Raymond Penfold, Jr. (1927-2016) decided to leave the trucking industry after 40 years and start his own business. Presently carried on by his family, VIP has been giving customers the opportunity to travel safely and comfortably on tours and chartered trips for 33 years. VIP seeks to be the consumer's first choice for safe, efficient, reliable and comfortable transportation, tours and related travel services. The company employs 25 people. 
(Attached Photo: 2018 Prevost X3-45 motor coach)
Media Contact: 
Maureen Davis, 772-4457