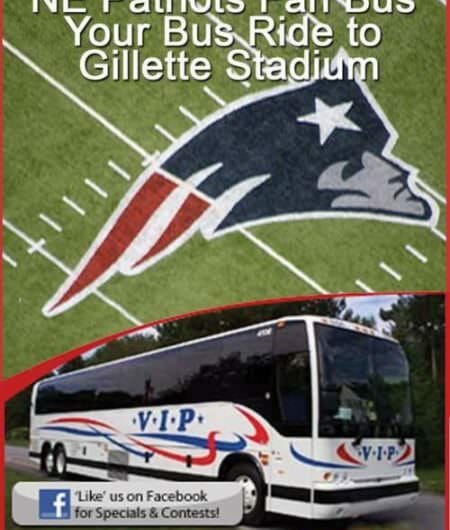 NE Patriots vs. Buffalo Bills
SAT, DECEMBER 21, 2019
Gillette Stadium, Foxborough, MA
Game Time 4:30 pm
The Patriots Fan Bus is back for another season! Ride-only service to New England Patriots home games at Gillette Stadium. Driving with traffic and parking fees can be a huge hassle, so leave the driving to us and enjoy time with your friends and family onboard our deluxe motorcoach. The bus will arrive to the stadium approximately 2 hours before the game and depart 30 minutes after completion. Ride only. Does not include your game ticket.
TIMES TBA.
11:00am – Portland, Marginal Way Park 7 Ride Lot (across from World Gym)
11:30am – Biddeford, Exit 32 Park & Ride Lot (across from Walmart)
11:45am – Wells, Exit 19 Transportation Center
2:00pm – Approximately arrival to Gillette Stadium
4:30pm – GAME TME!
Depart 30 minutes after the game ends