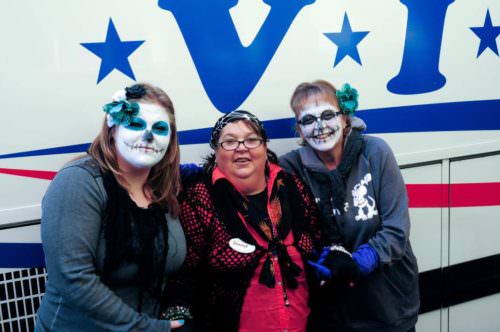 Salem Haunted Happenings
Saturday, October 21, 2017
Salem Village, Salem, MA
A festive celebration of Halloween and fall in New England! Haunted Happenings is a month long Halloween celebration
of parades, costume balls, haunted houses, ghost tours, historic tours and reenactments. Take a spin on the rides at the
annual Haunted Happenings Carnival. Visit the Psychic Fair and Witchcraft Expo to wander an emporium of magical gifts,
meet real practicing Witches, or make an appointment with one of Salem's talented psychic readers! Relax and enjoy
your round trip motorcoach transportation to this world recognized event.
Includes: Deluxe Motorcoach Transportation.
10:00am Portland – Exit 7 Marginal Way Park & Ride Lot
10:30am Biddeford – Exit 32 Park & Ride Lot
10:45am Wells – Exit 19 Transportation Center
11:25am Seabrook, NH – Sam's Club Parking Lot, 11 Batchelder Rd
12:00pm – 6:00pm Enjoy the day in Salem Village
We recommend making the most out of your time by planning your day in advance.
Visit the Haunted Happenings website for more information.