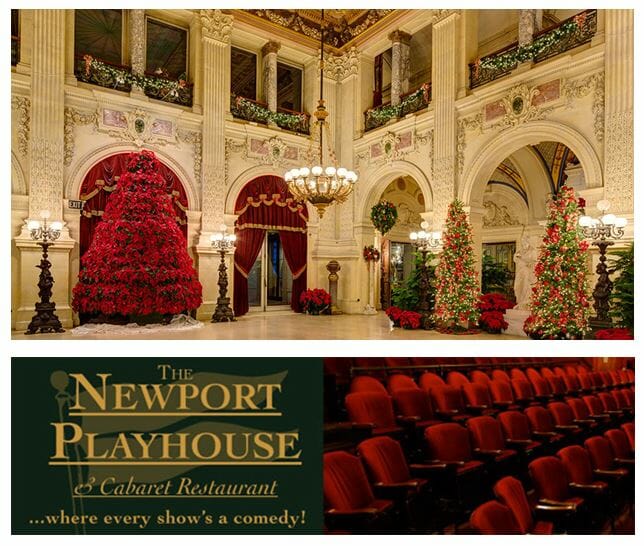 ** ONLY ROOMS WITH ONE KING BED LEFT AVAILABLE** CALL TO RESERVE 207-772-4457
Newport, Rhode Island
Saturday, December 1st – Sunday, December 2nd, 2018
Includes: 2 Days, 1 Night hotel, Newport Playhouse Dinner Theater, Breakers Mansion
Hotel: Courtyard by Marriott Middletown RI:  Just minutes from downtown Newport, hotel offers fitness center, indoor/outdoor pool and Bistro for breakfast.
Upon arrival in Newport, free time for lunch and browsing in downtown Newport (on your own).  We'll have a late afternoon check-in to the hotel.  In the evening, we'll go to Newport Playhouse for the dinner theater. The show is called "A Doublewide, Texas Christmas."  An outrageously funny comedy where you will see that there is no place like a good ol' Texas mobile home for the holidays! (Recommended for audiences over 12 years of age).
Sunday morning, you'll enjoy breakfast on own at the hotel then we'll head to the Mansion. The Breakers Mansion is a symbol of  the Vanderbilt's social and financial preeminence and is considered the grandest of Newport's summer "cottages."  The 70 room mansion was inspired by 16th century palaces.  We'll visit the mansion when it is beautifully decorated for Christmas. Self-guided tour of the Breakers Mansion followed by free time in downtown Newport for lunch (on your own) before returning home.
*Please note the Newport Playhouse dress code: No T-shirts, baseball hats or cut off jeans. Thank you for your cooperation.*
Departing from:
7:30am – Portland, Marginal Way Park & Ride
8:00am – Biddeford Exit 32 Park & Ride (Across form Walmart)
8:15am – Wells, Exit 19 Transportation Center