Elton John Gillette Stadium Ride Only 7/28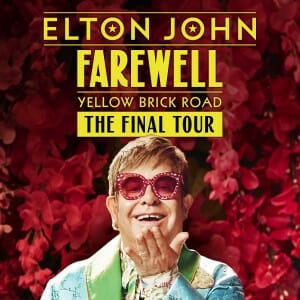 Elton John Gillette Stadium Ride Only 7/28
Elton John: Farewell Yellow Brick Road The Final Tour
Thursday, July 28th, 2022
Gillette Stadium, Foxboro, MA
Ride Only
On the heels of Elton John's 75th birthday and his triumphant return to the stage this year, the iconic superstar and tour promoter AEG Presents announced the remaining North American dates for "Elton John Farewell Yellow Brick Road The Final Tour."
Got your ticket? We've got your ride. Sit back, relax and leave the driving, traffic and parking to VIP. We'll arrive approximately two (2) hours before the concert begins and depart 30 minutes after completion. This is an all ages bus. There is no alcohol consumption permitted onboard the motorcoach.
Time Schedule TBA
Portland, ME – Marginal Way Park & Ride
Biddeford, ME – Exit 32 Park & Ride
Wells, ME – Exit 19 Transportation Center
Gillette Stadium – ELTON JOHN CONCERT
Depart for home.
Elton John Gillette Stadium Ride Only 7/28
Related tours